Introduction

Welcome to Kaichou Wa Maid-Sama! Wiki
Our wikia is exclusively dedicated to everything about the Kaichou wa Maid-Sama! Anime and the Kaichou wa Maid-Sama! Manga created by Hiro Fujiwara. You can help us to expand our wikia by editing or by creating pages! We are currently editing over 306 articles since September 17, 2009.

WARNING
: This wiki is full of spoilers! Read at your own risk.
Synopsis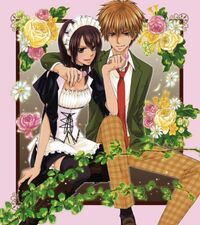 Once an all-boys school, Seika High, a renowned school full of reckless and filthy students, has recently become a co-ed school. However, with the female population still remaining a minority even after the change over the recent years, Misaki Ayuzawa takes it into her own hands to reform the school and allow a chance for the girls to feel safer in the rough environment. Even the teachers are on her side. Training, studying and even becoming the first female student council president of the school, Misaki has gained a reputation, among the male students body as an uptight boy-hating demon dictator and as a shining hope for the teachers and fellow female students. However, despite her tough-as-nails appearance, she secretly works part-time at a maid café in order to support her family. Unfortunately, her secret is soon discovered by Takumi Usui, a popular boy at Seika High.
Final Episode
Episode 26: That's Cunning of You Ayuzawa, Usui You Idiot!
After getting away from the crowd, Takumi and Misaki join a contest for couples, where thanks to her competitive nature and his teasing, they win the contest and receive a special prize for the post-festival fireworks. After the UxMishi concert, Misaki tries to find Sakura and Shizuko but finds Kūga instead, who is planning to stroll around the festival together with Sakura. After confirming Kūga is serious about Sakura, Kūga wonders why Misaki hasn't accepted Takumi as her boyfriend. Read More...
Final Chapter
Chapter 85
It´s the day of the graduation. Some students are still shocked about Misaki Ayuzawas part-time job. The Maid Latte-crew makes a surprise appearance in Seika High to congratulate all students. The story also skips to 10 years later with a wedding ahead.. Read More...
Featured Character
Sara Usui (碓氷さら, Usui Sara) is the daughter of Misaki Ayuzawa and Takumi Usui. She is the older sister of Rui Usui and is currently 10 years old. Sara was featured in the one shot crossover between Kaichou Wa Maid-Sama! and Yuki wa Jigoku ni Ochiru no Ka! In the crossover, Sara talks to Rui about how Misaki had gotten a long vacation from her work so they visited Kyoto, and that today was Valentines day so the good daughter she claimed her self to be, she let her parents be all lovey dovey alone together and with that, freedom was in her hand so she could do as she please without her parents bothering her. The main plot of the crossover begins when Sara finds a flier of a bus tour in a store to a unique village. In that village Sara and Rui is taken on a tour, which there Sara discovers a strange miracle that happened nearly 16 years ago. Much to her interest, she tries to solve the mystery of the village that occurred 16 years ago.

Click for more on this Character...
Vote for the next featured Article...

Affiliates
Want to become an affiliate of us? Then contact us.
Featured Image
Vote for the next featured image...
WikiaAnime Twitter Feed

<twitteruser username=WikiaAnime limit=2 />
Featured Quote
"The youth's true objective, shrouded in mystery. That is concealed within the world of this mundane reality resides a very impassioned tale!"

—
Sara Usui
Vote for the next featured quote ...
Kaichou wa Maid-Sama! Poll
Did you know?
The Kaichou wa Maid-Sama! Manga has ended?
Hiro Fujiwara created a oneshot called Yuki Ochimura ni Ojou-sama! which features the kids of Misaki and Takumi, Sara Usui and Rui Usui?
Hiro Fujiwara created a special chapter called The Strongest Maid in Campus in 2017, which occurred in the 13th volume before the school trip era?
Suzuna Ayuzawa and Minako Ayuzawa didn't appear till late in the manga while they are recurring characters in the anime?
The Yumeyama Brothers appear to be five brother each appearing different than other, while in the anime they appear as quintuplets, each looking exactly the same?
Episode 9, A Maid, as Far as Momotarō Goes, is also a parody of a well-known Japanese tale called "The Island of the Ogres"? It's about an old woman and man who find a giant peach flowing down a river one day and when they cut it open, they find a baby. They call the baby Momotaro (meaning Little Peach Boy). Momotaro then grows up and goes on an adventure and meets several friends on the way.
Links
Kaichou wa Maid-Sama! at Anime News Network
Kaichou wa Maid-Sama! at Wikipedia
Kaichou wa Maid-Sama! at Hakusensha (Japanese)
Kaichou wa Maid-Sama! at MyAnimeList
Kaichou wa Maid-Sama! (Manga) at MyAnimeList
Kaichou wa Maid-Sama at Mangaupdates

Opening Song