Misa-chan as a boy is the 6th chapter of the Kaichou wa Maid-Sama! Manga.
Summary
[
]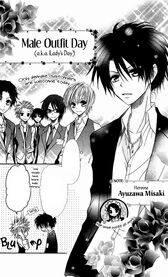 Maid Latte is celebrating a summer special event named 'Male outfit day'. The female workers, including Misaki, are dressed in male outfit and only ladies are welcomed in the café. Misaki is worried at first but is shocked to see that the tables have been completely booked already. The shop is opened and Misaki starts serving the ladies. All the customers are mesmerized by her handsome look. She thinks that it is fabulous to be surrounded by girls when she is usually surrounded by males. During break, Misaki goes to the backdoor to get some fresh air and finds Takumi sitting there with a bored expression on his face(males aren't allowed).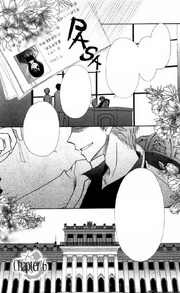 The extra staffs won't be coming due to emergency matters and they are in big trouble. Takumi offer helps, while Misaki is hesitant, the manager agrees quickly. The manager tells him to cook 'omurice' which he does quite fast. The manager and Misaki are shocked to taste it as it tastes very delicious. Misaki again starts to serve. Later, she goes in the kitchen where Takumi calls her 'Misa-chan' to which she replies that today, she is 'Misaki-kun'. Takumi looks reluctant. Misaki says that if the event remains like this then she can be a guy forever.  In the locker room, Misaki keeps on saying that she really liked the event and w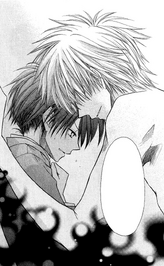 ants to wear the male outfit again. While Takumi listens silently, she asks him the meaning of 'seme'(one of the girls called her that). She is suddenly surprised to see Takumi taking of his shirt. He suggests that Misaki should change as well, and since they are both guys , She shouldn't have any problems in undressing. Misaki looks shocked while Takumi pins her to the wall asking her if she needs his help. Misaki is embarassed and Takumi reminds her that afterall, she is a female and tells her that this is what they call 'seme' (attack type).
Takumi and Misaki are then seen in shcool with Misaki busy with her student council work during the summer break, with Takumi hanging around as usual. Just then, Igarashi Tora, the student council president of Miyabigaoka arrives much to the shock of Misaki and Takumi.
[

]