The Message between His Eyes is the 35th chapter of the Kaichou wa Maid-Sama! Manga.
Summary
[
]
Takumi runs into a woman at the train station and helps her in picking the apples that she dropped. She thanks him, but ends up dropping the apples again. This forces Takumi to carry them to her home. On their way, she tells him that her daughter is also a student of Seika High. She asks him if high school life is full of romance and excitement, stating that her daughter is usually busy with her studies and part time job, blaming herself for the cause. Takumi is surprised when she smiles and says that he is a nice boy. However, he is even more surprised when they arrive at their destination and Takumi finds out that she is Misaki's mother. She invites him inside. Though reluctant, Takumi is forced to go in and ends up fixing a broken floorboard.He notices some scribbles on the wall, that is actually the height measurements of Misaki and her sister.

Takumi is about to leave, when Misaki, along with Hinata, arrives and they are shocked to see takumi. They eat their meals together and Hinata accuses Takumi that he planned this beforehand because meeting with Misaki's mother at the train station cannot be a mere coincidence. Misaki thanks him and wonders that it seems like he is mad at something. Soon after, Misaki's sister, Suzuna, arrives. She and Hinata begin to play the game that they used to play in their childhood days. Misaki yells at the two of them, and again, notices that Takumi is lost in some other thoughts. When Takumi takes his leave, Misaki asks if something is bothering him, and is shocked as he says says that he already forgot about it. After he leaves, Misaki's mother says that someone who is the complete opposite of her father is fine as well.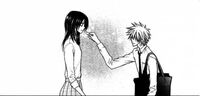 Misaki follows after Takumi and finds him in a park. Back at home, Suzuna comments that Hinata resembles their father. Surprised by the comment, Hinata answers that even though he has a slight resemblance of her father, he would never abandon his family and the people important to him. In the park, Misaki gives some "bunny apples" to Takumi made by her mother. Takumi says that these memories of Misaki are very fresh to him. When Misaki asks if he is mad because she is spending too much time with Hinata, Takumi laughs and says that he is happy now because she came all the way only for him. He feeds her some apples, and holds her hand, telling her that he would walk her back home.
[

]