The Things that He Wishes for, Is Always, Always Just that One Thing is the 34th chapter of theKaichou wa Maid-Sama! Manga.
Summary
[
]
Hinata recalls the time when Misaki gave him a candy when he was leaving with his grandfather at the time of his childhood. At present, he goes to the student council room to meet Misaki, but is irritated to see Takumi. He freezes for a moment after seeing the expression on Takumi's face. Misaki throws the two of them out of the council room, stating that it is not a library. After his part time job, Hinata returns to his home and receives a call from his worried grandfather. He becomes flustered when his grandpa asks about Misaki. He blushes and tells him that she is in the same school and class as him. Hinata recalls the time when he enjoyed climbing trees and Misaki used to scold him. He was popular in his baseball team because he was a pitcher, and other guys were jealous of him. On Valentine's day, he used to stare at the wrapper of the candy given by Misaki.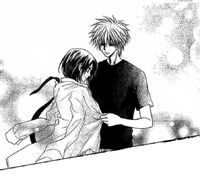 At school, the guys try to warn Hinata about Misaki, however, he ignores them, saying that his feelings for her can never change. They spot Misaki cleaning the floor and try to escape, however, Hinata decides to help her. Misaki happily thanks him, making him blush. Hinata proposes the idea of using the hose to make the work easier. Things get worse when the hose plugs out from the tap and water flows in every direction. Misaki is already soaked by the time they turn off the tap. Takumi arrives and suggests that she should change clothes if she does not wants to catch a cold. When Misaki is about to leave, Takumi stops her and covers her with his shirt, suggesting that she should be more careful with her appearance. Hinata is shocked and tears start to flow from his eyes as he watches the two of them leave.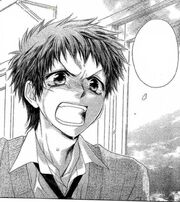 Hinata remembers the time when his friends used to tease him about Misaki and warned him that she might already have a boyfriend. They knew that he still had that candy wrapper with him, which he kept in a good luck charm. They advised him to make proper decisions, if he is really serious about confessing to Misaki. He goes back to the old tree, which he used to climb. He cries at the thought of Misaki and decides that he will become a better man to beat Takumi and make Misaki notice him. Next day, he is back to his normal self and happily greets Misaki as she scolds him for bringing food at school.

[

]