Side Story is the 14th chapter of the Kaichou wa Maid-Sama! Manga.
Summary
[
]
Misaki and Shouichirou are looking at the suggestions from the students. Misaki spots a suggestion from the football club and decides to look in the matter but is abruptly distracted by Takumi who showed up soaked in water. Shouichirou offers him his towel with a blush on his face, still uneasy from the kiss Takumi gave him. He hides behind the curtain and Misaki asks him if he is a girl in love.
Misaki then asks Takumi why is he wet to which he replies that he was trying to help some guys in opening the tap which was blocked. He kicked the tap and the water flew out in every direction. Misaki calls him an idiot saying that she will go and have a look so that the tap could be repaired. She tells Shouichirou to handle the Football club's problem. It is written on the note that there is a scary thing behind the club which is scaring everyone. Shouichirou heads to the Football club and finds that everyone is busy in their own. No one is paying attention to him and he decides to take a look himself.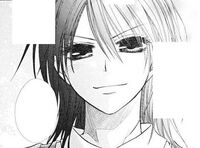 He goes to the backside and finds a weird doll hanging from the tree. He steps ahead and touches a string which turns out to be a trap. He is about to fall for it but Misaki arrives and grabs him. Shouichirou is surprised. He notices that the doll is going to fall on them but is again saved with the arrival of Takumi who kicks it away. Shouichirou is still frightened. Misaki says that recently, these kinds of incidents have increase. Shouichirou tells her that whatever she says, the guys overdid it. He says that taking things seriously is for Seika's sake. Takumi and Misaki look happy. Misaki thanks Shouichirou with a smile on her face. Shouichirou is surprised and thinks that the president, who is actually considered a demon, is very strong and kind hearted.
Soon after, Takumi ends up returning Shouichirou's towel. He says that he has wiped every single part of his body with it (even 'there') which makes Shouichirou blush. Msiaki says that at a situation like this, Shouichirou should feel disgusted and not blush.
[

]